Crochet Fingerless Child/Toddler Gloves *Free Pattern* Extremely Easy!
By: ©StuffingFairy
Please don't sell my pattern or the gloves you make, this is for your own personal use only.
*Abbreviations*
Ch: Chain
Sc: Single crochet
Hdc: Half double crochet
Ss: Slip stitch
My son is four years old and he hates accessories. He doesn't wear hats because his head is too big for them and he will never wear a pair of gloves. Or so I thought, until one night (while watching the new Spongebob movie), he requests "gloves like mommy". Obviously I jumped at the chance to make him some! He fell asleep wearing them, and that's what I live for. Are you ready to start? Ok here we go…
Hook: N-9.00mm for the light green. J/10-6.00mm for dark green.
Yarn: Both yarns are Red Heart Super Saver's, the dark green is hunter green and I believe the light green is the new tea leaf.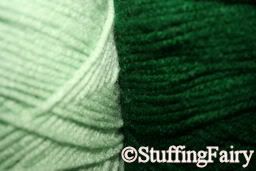 Note: Make them smaller or larger according to what you think is best. Everyone's hands are different. The gloves are thick so they are pretty warm and really fun and easy to make.
Light Green
Row 1: Chain 9 or however many to fit the child's hand, from knuckle to wrist.
Row 2: Turn and hdc in same hole once, then hdc down length of chain.
Repeat for as many rows as needed to almost close around child's hand. I made 14 rows. Fasten off at the end and grab your next color and hook. You should have a rectangle by now.

Dark Green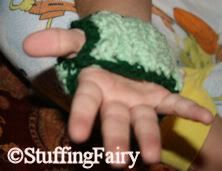 Sc around 3 sides of the rectangle beginning on a long side. (I used the second color to clean up the edges and make the glove neater).
Bring both ends together, one end should be fully dark green and the other end should be light green.
I started off with 9 in the beginning, so I had 9 sc's on each side. Join them with a ss and sc's. Since I had 9, I did 4 sc's joining the sides together, then I sc 3 into only one side of the glove while leaving a space for the thumb but still staying consistent with the dark green border. Finish off with 2 sc's and fasten off. Clean up the loose ends by weaving them in and you are done!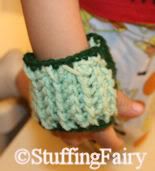 Wasn't that easy?
Official 4 year old approval? Granted!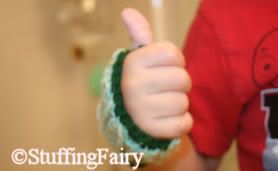 ©StuffingFairy